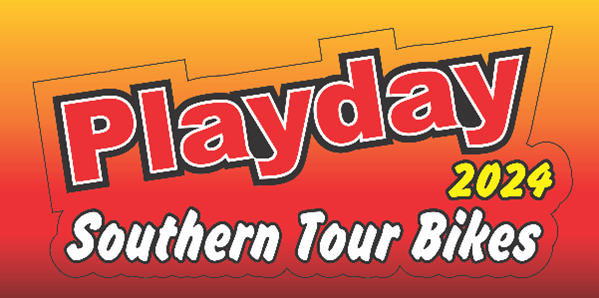 Playday's Southern Tour 2024
Bike Tour

We are doing it again!
Teretonga, Levels and Ruapuna.
6 track days from the 19th February through to the 28th February
Playday have hosted The Southern Tour for many years and it is just an epic event, the tracks are great but for me it is the socialising and the great friends that are made along the way. So many ways to do it, ride, drive, fly, however you choose this will be a road trip and Playday event that you will never forget.
The Southern Tour
Entries are open. All bookings will be via our online booking system at https://www.enterme.co.nz/index/
Please make sure you book the correct tour for your vehicle,
E.g. bikes are on the bike tour, cars are on the car tour and our prestige cars have their own tour.
E.g. 2. Would hate for your Ducati to be out there playing with Corolla's. please make sure you book the correct Tour
Well here we go again, The Southern Tour is the ultimate
This year we have a different plan from previous years. This time around we will be hosting 3 completely different tours, one tour for the Cars, one tour for the Bikes and another tour for the Prestige Cars
The Car Tour, 6 track days from the 19th February through to the 28th February
The Prestige Tour, 4 different tracks starting on the 29th February through to the 7th March
The Bike Tour, 6 track days from the 24th March through to the 3rd April.
We should have plenty of spots available this year with the new format but remember the last tour, it sold out in just over an hour from when we released the bank account. The first race will be to just enter The Southern Tour.
How much will it cost for a lifetime of good memories.
Cars, all 6 Playdays at 3 different tracks, 2 days at each track $900
Bikes, all 6 Playdays at 3 different tracks, 2 days at each track $850
Prestige Cars, 4 different tracks, 1 day at each track $1000
How to book in for the Ultimate Playday Southern Tour,
There is only one way to book in for The Southern Tour.
We will NOT be using the secret bank account this year as we feel the scammers could have a field day with this. All bookings will be via our booking page https://www.pukekohemotorsport.co.nz/tickets/ This is the only way to book in for The Southern Tour
The Bookings page will open for bookings at 7pm on Tuesday the 1st of August 2023.
Payments to the normal Playday/MotoTT account won't help you secure your spot early sorry. First in first served and once we hit our maximum numbers that's it full. You will have to wait till 2026.
A non-refundable deposit of 50% is required to secure your spot & the balance is due by 31st October 2023.
REFUND POLICY, Once the event is fully subscribed we will start a waiting list. If anyone who has entered finds they cannot make the trip we will refund them ONLY if we can find a replacement, if you find a replacement we are happy to transfer your booking to another person for the 2024 Southern Tour
Important Information
PRESTIGE GROUP
Road cars only, slicks are not allowed, no race cars. Qualifies for Track day cover if you are insured with Prestigio but remember to confirm with them prior to the event. Only 14 cars per group so plenty of room for you to have fun.
The Road Trip:
We will be travelling down the West Coast and anyone wanting to travel with us is welcome to. We will send out a list of where we are staying, you can choose to stay there or elsewhere. The accommodation we have chosen stay at has food & drink facilities on site or close by, this has made for some really good nights. All our accommodation suppliers will give you corporate rates if you mention Playday when you make your booking.
SPECIAL REQUIREMENTS
Levels Racetrack at Timaru started life "out in the country" but now has a number of neighbors'. As a result the track can only be hired 75 days per year & they have a few rules they must abide by,
Those rules flow on to us & must be respected. As a result the following must be complied with & it really isn't difficult
1. Noise levels must not exceed 95.0dBA (That's fairly loud)
2. Helmets must meet Motorsport NZ Current standards. These can be found in the Motorsport manual.
3. Overalls must be CLEAN & Fire Retardant or Self Extinguishing. 100% Cotton is deemed self extinguishing. (Poly Cotton blends do not comply) Enclosed footwear must be worn.
4. A Fire Extinguisher, minimum 1kg Powder or 1 ltr Foam securely mounted in the car with a metal bracket with 2 clips. (Super Cheap Autos have these for around $30.00)
5. Oil catch can, this is mainly for modified cars as most standard vehicles vent the crank case back into the air intake system, any vehicle venting the crank case to the atmosphere must be fitted with an oil catch can.
6. Secured Battery, factory metal brackets are fine unless your car has a modification that requires something more.
Scrutineering at Levels will be done by Levels scrutineers as per their request; this will not be hard but a general safety check. As your car will either be up to race or WOF standard there should be no problem.
Noise levels must not exceed 95.0dBA at any track.
Riding gear requirements for Motorcyclists;
To participate in Playday Events you'll need some essential riding gear. Listed below are the minimum requirements.
• Leather jacket and leather pants which zip securely together, or for the slower groups road motorcycle clothing is permitted but must be zip together. No "Dragon jeans" or similar allowed.
• Leather motorcycle boots (boots must overlap pants or pants must overlap boots, so as no skin or other clothing can be seen);
• Leather motorcycle gloves – gloves with carbon fibre or Kevlar knuckling and/or palms are strongly recommended (gloves must overlap jacket sleeves i.e. no wrist length gloves);
• Full-face helmet minimum of New Zealand, Australian, DOT or Snell approved, visor must be correctly secured;
• Back protectors and chest protectors are not mandatory but strongly recommended.
GENERAL
Hybrid or fully battery powered cars are not permitted on The Southern Tour.
RULES FOR OPEN TOP CARS
All open cars (i.e. soft top convertibles) must have roll protection, either factory fitted such as: Boxter, S2000, Z3, Z4, 350z, 370z & Elise etc. or suitable aftermarket roll protection if it is not Factory fitted. Fibre glass hard tops are not sufficient as roll protection. If you are unsure, please send us an email.
WEBSITE
More information about our track days including how they run, what to wear, rules for passengers, etc is to be found on our website www.playdayontrack.co.nz or for bikes https://motott.co.nz/
Looking forward to seeing you all at The Southern Tour, it will be an adventure for sure.
Gary Stirling 021 1330111